3D Printed Chitin / Chitosan for high impact layers
#content
Hybrid Polymeric Distributed Bragg Reflector technology, with novel crystal structures and formations
#content
BCP membranes for oil/water separation
The present surface water resources will soon be insufficient to meet the needs of the next generations. One of the solutions is to reuse water after purification. Wastewater is now contaminated with oil and other organic compounds due to the rapid rise in oil & gas, petrochemical, pharmaceutical, and food processing industries. Membranes present an easy and energy-efficient solution for the removal of both particulate and oily matter from wastewater. The self-assembling characteristics of block copolymers (BCPs) provide a promising pathway in developing ultrafiltration membranes with continuous nanoporous channels. Such uniquely defined morphologies can be further tuned by selectively partitioning an active species into the pore-forming domain of BCP. Our work focuses on developing processes for easy fabrication and modification of polymeric membranes for oil/water, particulate and gas separations.
Mechanically Stable Thin Chitin/Chitosan Nanocomposite Films as Humidity Sensor
#content
Upcycling and Compatibilization of Polyolefins with Cellulose Nanocrystals (CNCs) to Improve Recyclability and Mechanical Properties
#content
BCP membranes for bioseparations
#content
Block copolymer self-assembly with enhanced kinetics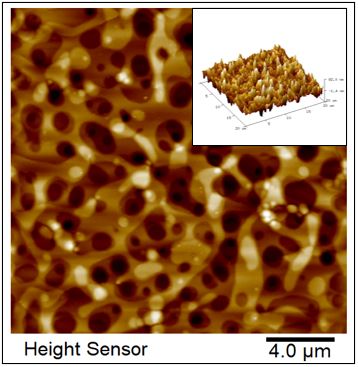 There are a multitude of processing technologies available for directed self-assembly of block copolymers (BCP). Self-assembled BCPs serve as important starting materials for nanolithography, nanoporous membranes, plasmonic devices, and high-density memory storage devices. The kinetics of the assembly process are highly dependent on the processing pathway. Here at KRG, we develop and study BCP processing methods with enhanced kinetics. These techniques include solution treatments like direct immersion annealing and combinatorial techniques like solvothermal and solvo-microwave annealing technique. Combining multiple techniques can probe intermediate transition states to enhance the kinetics and improve microstructure properties.